What to do / who to follow / what not to miss once you are in Chicago?
(for Veronika! Enjoy your new hometown)
I love how every place has a different kind of a vibe. It's like almost every city has this kind of unique atmosphere., created by people, nature, surroundings, and history.
There are places where you can go for a short trip with your new lover, places have the sweet romantic atmosphere that reminds you of your past, some are fun for a party weekend with your girls, and other places are the key to your future plans. (yes, that places, you are promising yourself to live in one day). There are places you used to go as a kid, but you are too afraid to revisit them because you know they won't be and surely they won't feel the same anymore. (pity that time traveling is possible solely in our thoughts)
Then there are places you stumble on just by a chance. You never imagined yourself living in these places, nor have you thought about visiting them And yet, these places stay with you because they influenced your point-of-view and impacted your personality.
The city that fits this description for me, a place that I never actually desired to live in but will forever be in my heart, is Chicago.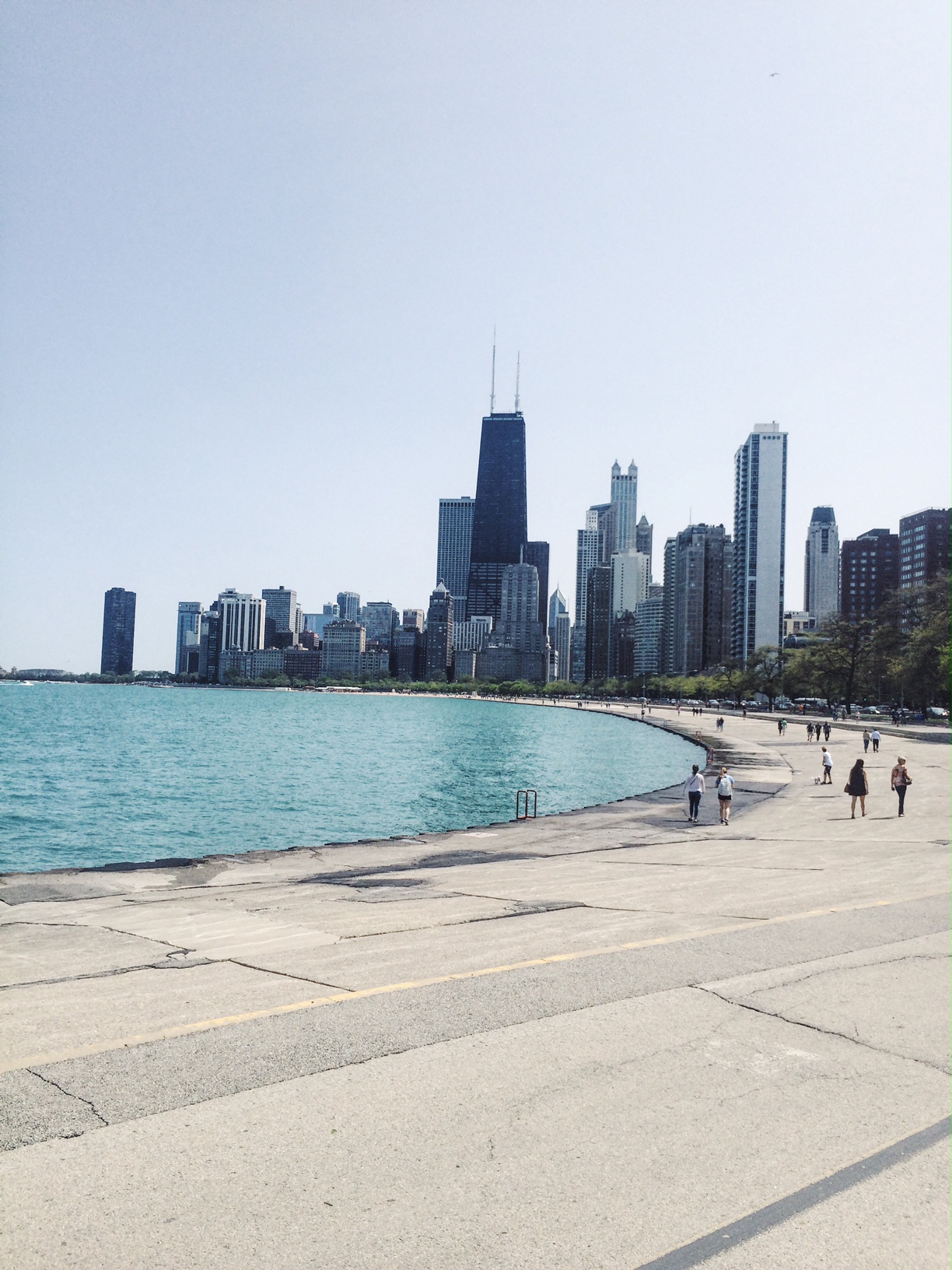 Chicago in the summer time
I remember watching a Youtube video about this place in 2015 and I couldn'tbelieve how big and non-European it was. I was thrilled at the idea of a new experience, freshly in love and ready for any kind of adventure. I had no clue in that time, what great people I was going to meet there, what struggles and heartbreaks were awaiting ahead, but also I didn't know how much I' was going to grow there as a person.
Now, as I look back fondly on the time I spent in Chicago, I know it will always have a special place in my heart.
I'm sure, I don't know that place as much or as proper as somebody living there for ages. But I still have a helpful list of places you will not want to miss if you visit the Windy City.Still, this is my personal view, what places in Chicago are worth to spend your time at. If you know any better let me know. ;) I'm always excited to discover new places
Bars that Turn into Fabulous Breakfast Places:

Scofflaw
This place serves the best cookies served at midnight for free! Yes, you are likely to think they are the best because you are already tipsy from their delicious drinks. The cookies are a nice sweet treat after enjoying their salty french fries.

Long Man & Eagle
It doesn't matter if it's midnight or early in the morning, you can find the food you want in a cozy Chicago-style setting. The bar's interior is dark and filled with wood furniture and paneling. It is the perfect place to hide from the cold during the cold and blustery winter.
Coffee & Net (working)
Intelligentsia
From my experience, this place has the best coffee in the city! I don't consider myself a coffee-snob, so there might be better coffee served somewhere else on the planet, but I haven't found that place yet! You will find this coffee-chain on almost every corner, but don't worry, it does not resemble Starbucks in any way. Intelligentsia proudly displays a unique style.
Ipsento 606
If I could only make one café recommendation in Chicago, this might be it! Great, coffee (with sizes as big as 16 ounces!), super small donuts (so you don't ruin your diet by eating just one), nice design, extremely friendly staff, and a dog park right in front of the café! The ultimate heaven!
Lula Café
If you fancy feeling more European, in the heart of Logan Square, this is the place you should go. A great vibe, a good magazine selection, and always a long queue to get in. But trust me, you want to get in any way!
Summer vibes
Parsons
This place has a large summer porch and tasty cocktails. It also manages to be the best to play ping-pong in the city!

Big Star Tacos
This place has tacos that everybody loves. It is decorated in the style of an old-fashioned gas station, but it has the best Mexican food ever. I used to love this place, till it made me pretty sick. Just avoid anything fried and you will love this place as I used to do.
Best Bars
Cindy's Rooftop Bar
This rooftop bar, which sits on top of the Chicago Athletic Association Hotel, is wonderful. You can order great drinks and see original Andy Warhol paintings. I have very warm feelings towards this place because it is the place where my company hosted an amazing after-party and I also enjoyed one of the best dates of my life. If you are considering going on Tinder while in Chicago, this place is a great location for a first, second or third date!
Concept stores
Congruent space – bunch of young guys made an ex-dog saloon into one of the newest and most vibrant fashion places in town! Definitely, place to stop by and to say hi.
My other favorite spots:
Humbolt park with the lake
Signature room
Museum of Contemporary/ ModernArt
Logan Square farmers market
River bank Stair in down town
"Corns" skyscrapers
Bean
People worth following
Eileen – owner of graphic creative studio OTHER
Whitney– stylist of Chance the Rapper and inspirational person – thanks to her I've realized, that you should always follow your dreams and know that the best is yet to come!
Nicole - half of our sistercitystudio
Congruent space
Bianca- editor in chief of Circus magazine, powergirl, and the biggest Britney Spears fan!
Just the best quote ever!